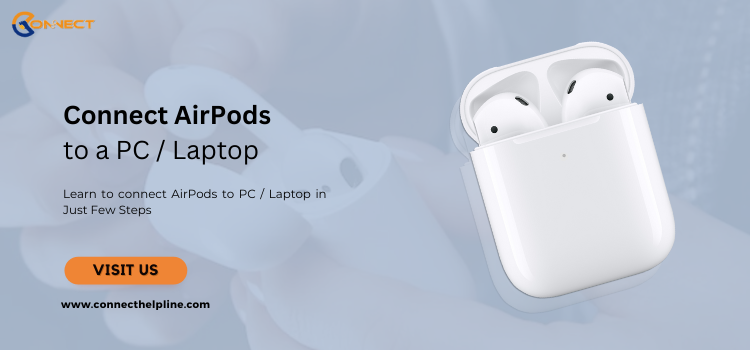 Apr 11, 2023
Airpods
Admin
Estimated Read Time : 5:00
To Connect Airpods to PC / Laptop, read the Full article Carefully. We are not giving you an Out of world information when we say Airpods are designed to work effortlessly with different Apple products. Although these are similar to other Bluetooth devices only, when it comes to other connecting with other products like a Windows PC or laptop, this process can be a little tricky.
Thus, to get a step-by-step guide, you can simply read this blog. In case you want instant help, dial +1-855-356-3099 and get an immediate answer.
What are differences between Paid and Free Version of AOL?
How to Connect AirPods to Windows System?
As we already mentioned, AirPods are similar to other wireless devices. It uses Bluetooth to get connected to other devices. This makes it easier to connect with non-apple products, like Windows or Android.
Before we head toward the solution to connect AirPods with a Windows laptop or PC, you first need to ensure that your device has Bluetooth. You can verify it by the following given instructions:
Click on the Start Button.
Thereafter select the Device Manager.
Now, look if there is any entry for Bluetooth available.
If not, then your device doesn't support Bluetooth, and you won't be able to connect it with AirPods.
However, if it supports Bluetooth, then you can go further with the procedure and complete the connection of AirPods with a laptop or PC.
Steps to Successfully Complete the Connection of AirPods
Put the AirPods in their case to make sure it is fully charged.
Now, click on the Start Menu and go to Settings on your PC or enter Settings in the search box.
Tap on Devices, check the top of Bluetooth & other devices option, and verify if Bluetooth is switched on.
Note: The witch should be colored blue and towards the right to turn on the Bluetooth.
Select Add Bluetooth or other devices.
Now, a new Add Device window will open on your screen; there, you have to select the Bluetooth Button.
Moving ahead, open the lead of your AirPods.
Note: In case you are using AirPods Max, you can skip this step and move ahead.
Thereon, you have to press and hold the small button present at the back of your AirPodS case for a few seconds.
Note: You have to press the button until you see the status light on the case start blinking white.
Next, the Airpods name must appear in the list of device names available to connect with your PC.
Note: Initially, they will appear as headphones, then changed to Airpods.
Now, hit the Airpods.
Here your Windows device will get connected to Airpods, and it will show a successful connection as well.
What are the steps to Disconnect your AirPods from your Windows PC?
Want to disconnect your AirPods to your Windows laptop or pc? Don't worry; let us help you with a brief guide.
Open Settings on your Windows device using the search box or start menu.
Thereafter select the Bluetooth and Device option.
Find your AirPods name at the top of the Bluetooth & Devices page.
Now, click on the three dots, and tap on the Remove Device tab.
Here you have to click on Yes to confirm your selection to remove the device from your system.
 How to Fix AirPods Won't Connect to PC Problem?
At times your AirPods won't connect properly with the Windows PC. There are three ways to fix this problem. Each of them is different but helpful for you.
1st Method: Disconnecting your AirPods from all the Apple Product:
Whenever you open the case of your AirPods, all the nearby Apple devices pick up their signal automatically and get connected to it. This will prevent Windows from connecting with the Bluetooth device.
Thus, if your AirPods fail to connect with your PC, then disable the Bluetooth of all the Apple devices nearby you. In case you can't disable the Bluetooth, then go to the Bluetooth setting of your Apple device and look for AirPods there. Now, try to forget your AirPods.
2nd Method: Utilize the Windows Troubleshooter
Another way to fix this issue is via Windows troubleshooter. It is a built-in feature of Windows device that detects potential problems that leads to Airpods connectivity issue. This, in brief, tell you the cause behind the error.
Click on Start Button.
Thereafter go to the Settings tab.
Now, click on Update & Security option if you are a Windows 10 user.
However, if you are a Windows 11 user, select Settings and then System.
Next, click on the Troubleshoot button.
Select Other Troubleshooters.
Tap on Bluetooth, followed by Selecting Run.
Here you have to wait for sometimes so that Windows can easily detect the potential issue.
Then there will be some fixes on your screen; apply one o them, as per your error.
3rd Method: Do the Manual Troubleshoot
In case Windows is not able to find the problem automatically, you have t go for the Manual Troubleshoot.
Turn on your Laptop's or Pc's Bluetooth.
Apart from that, make sure that the Airplane mode is Active. Open the settings button, then go to Network and Security, and now check the Airplane mode.
Review your AirPods charging percentage.
Disable the Bluetooth and enable it again, by going to the Settings option, followed by Devices, Bluetooth & other devices. Turn the slider off then after waiting for some time, turn it on again.
Update the PC's Bluetooth driver to its latest version.
Conclusion
At this point, we are expecting that now, you can connect your AirPods, very easily with a Windows device. However, if you are still not able to do so, then please dial our Toll-free Number and grab help from the Windows Experts. These experts have years of knowledge and experience, with which they can rectify all your issues.
Frequently Asked Questions
Of course, you can connect the AirPods to Windows PC. AirPods are just another Bluetooth device only, that can get connected to different devices. Although it connects faster with Apple products, that doesn't mean that it won't work with Windows devices.
In case you are not able to connect your AirPods to Windows PC, then the first thing you need to do is turn off the Bluetooth of all the other nearby Apple products. This is because Airpods connect faster with Apple devices when compared to Windows.
Yes, you can connect the Apple AirPods to your Windows PC very easily, and effortlessly using the USB.