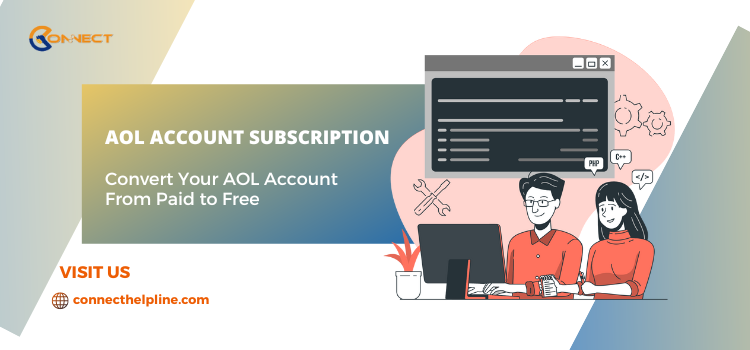 Apr 19, 2023
AOL
Admin
Estimated Read Time : 5:00
Can't manage the AOL Account Subscription cost and want to go with a free account plan? AOL provides safe and delightful email services to users who are even non-subscribers.
What are differences between Paid and Free Version of AOL?
Scenarios to Use Free AOL Account
AOL's revenue stream has been recently advertising-based as compared to subscription-based. It means that now you don't have to pay for your AOL account if you have a broadband internet connection. There are many users out there who like to avail of their free account while some of them want to discontinue their email account with AOL. If you're making up your mind to Convert AOL Account Subscription and end your paid plan then perform the cancellation methods that suit your needs and preferences. Let's take a deeper insight into this blog to collect more info about the same.
Here's How to Convert AOL to Free Version
If you want to cancel your paid AOL account subscription, you can convert or change it to a free plan whenever you feel like as you're just a few clicks away from the cancellation. So, follow the instructions listed below to cancel the paid plan and change it to the free one. Here's how:
To start off, navigate to MyAccount.aol.com.
Now, enter your username and password in the text fields and press the Log in button.
Hover over My Services and then tap on Subscriptions to access your account information.
Afterward, click Manage next to your subscription.
Review your account if required. It gives you the option of changing to a lower-priced plan instead of cancelling your account. If you want to pick any one of them, you can else proceed ahead.
You must select Cancel and then Cancel My Billing.
From the drop-down menu, pick the reason for the cancellation.
And lastly, press Cancel My Billing.
Important Points to Remember
You are not able to cancel your plan or move to the free one between the billing span as the company won't pay back your remaining amount. Rather than this, you've to complete the entire billing cycle before cancelling or changing your subscription plan.
If you have an active premium subscription, the billing cycle will be continued separately.
AOL can cost some charges or surges before making the cancellation. However, it's not mandatory but you're advised to be mentally prepared for this.
What to do to change AOL account plan? 
Do you have a higher-paid plan but want to change it to the lower one? Try out the steps highlighted below if you want to pay less for your AOL account.
The very first step is to log in to MyAccount.aol.com with the correct username and password.
Now, click on My Services and then choose Subscription to open the account information.
After this, tap on Manage and then select Change Plan.
On the confirmation page, switch your subscription to a lower-priced option rather than cancelling your account.
Final Verdict!
Still, finding issues when you convert AOL account to a free plan? Not to worry any more as our support team is here to make this process easier for you. So, if you're the one who doesn't have any idea about how to change AOL plan then feel free to get in touch with us. We'll surely give our best to give you quicker and better assistance to the fullest.
Frequently Asked Questions
No, not at all there will be no disruption in your services if you move to the free AOL plan. You'll still be able to access your email and other free AOL features as long as you're connected to the Internet.
The following actions can result in making your account deactivate or delete, let's take a look at each one:
If you're requested to delete your account.
You didn't log in to your account for the past 12 months.
You used your account in a way that violated our Terms of Service.
AOL provides a variety of services to all its subscribers including mobile and data security, premium technical support, and protection from identity theft, viruses, malware, and other online threats.
Once your AOL account has been deleted, you will no longer be able to have a look at the emails and attachments that were sent to your account. To recover your emails, you must reactivate your account and then you will have full access to your account.
If your AOL emails are mistakenly deleted and you want to retrieve them at the earliest then you can do so from the trash folder. But make sure you recover it within 7 days of deletion as they stay there only for a specific time period to get permanently removed.